Australia's leading benchtop water filters: The BIO 400, BIO 500, & BIO 1000
The BIO 500 (5.25 Litre) - Black
The BIO 500 (5.25 Litre) comes with the same advanced countertop water filter technology as all of Waters Co products, removing up to 99.99% of fluoride in drinking water. This is done with a patented nano carbon compound, an industry leader in fluoride reduction. It also infuses with all the right minerals to keep you feeling hydrated and energetic throughout the day.
Featuring a stunning hand-blown glass reservoir, the BIO 500 is sturdy but easy to move around. Perfect for the home, workplace, and small establishments, it was built to last, with a replaceable bench water filter that can purify up to 12,000 litres of water. Its unique Bio Ceramic feature keeps water in the tank fresh so that you can enjoy living water regularly.
And to show their commitment, the manufacturer has a lifetime warranty for all their products, as well as a filter replacement reminder service to ensure that you get full satisfaction from using the benchtop water filters.
Australia has never seen the likes of this product, which delivers cutting-edge solutions to the toxic effects of high fluoride concentration in drinking water.
Click here to see more details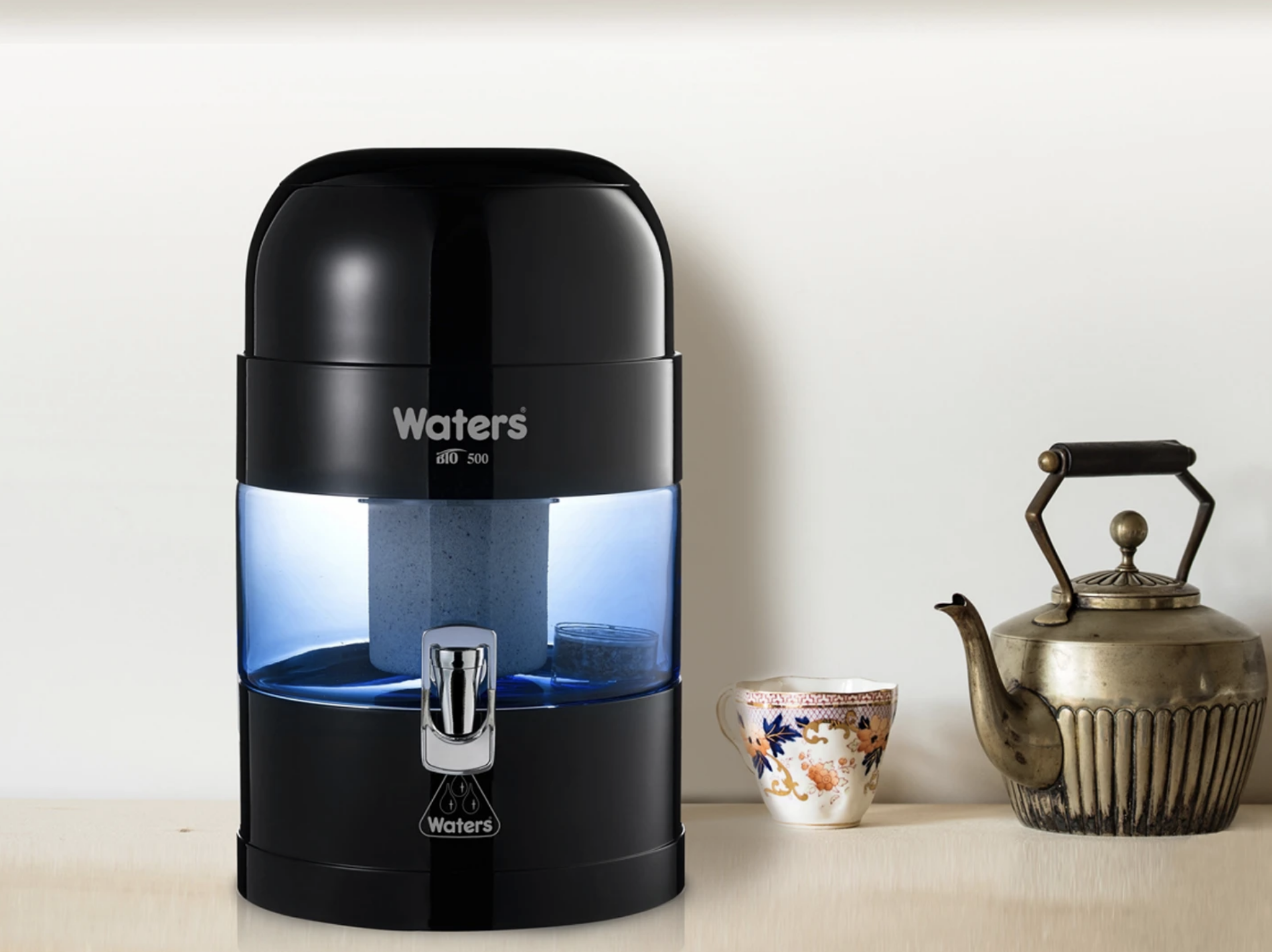 The BIO 400 (5.25 Litre) - Off-White
The BIO 400 (5.25 Litre) is the culmination of 32 years of unrelenting research by top scientists. This benchtop water filter removes up to 99.99% of fluoride in your drinking water – a feat previously unheard of in the industry. With a capacity of 5.25 litres, the BIO 400 countertop water filter is ideal for use in the home or the workplace.
This advanced benchtop water purifier puts water through 13 stages of sterilisation, filtration, and activation to ensure that your drinking water is free of chemicals, heavy metals, chlorine, and harmful bacteria. This is done through the effective use of multi-stage cartridges that remove contaminants.
Because when it comes to your safety, no benchtop water filter system is too complex or too exacting.
Not only does it purify drinking water, but the BIO 400 also ionises and remineralises it so that you can enjoy the full benefits of mineral-rich water that keeps you hydrated and encourages cell regeneration.
With a filter that lasts up to 48 months, BIO 400 is the economical choice – one that only costs roughly 3 cents per litre. Compact, lightweight, and easy to move, this ground-breaking benchtop water purifier will make a great addition to your home and office.
Click here to see more details.
The BIO 1000 (10 Litre) - Black or Off-White
When it comes to unsafe drinking water, the BIO 1000 (10 Litre) is the long-term solution you've been waiting for. With a hand-blown glass tank and chrome tap, this benchtop water purifier is as durable as it gets. As the latest version of the BMP 1000, it also comes with a complete bench water filter set that lasts up to five years. That's 15,000 litres of clean, healthy, great-tasting water just for you.
A visually striking product, the BIO 1000 doesn't just look good on your kitchen counter. It comes equipped with the latest technology in benchtop water filters. Australia is at the fore of water purification, and Waters Co sets the gold standard with its sophisticated benchtop water filter system.
The pre-filter membrane removes bacteria, rust, sediments, and other contaminants, while activated carbon bonded with silver eradicates heavy metals, chemicals, and chlorine.
And it does all this with no electric or tap connection. No other product in the market does what the BIO 1000 does, with an unrivalled benchtop water filter system that puts drinking liquids through class 15 stages of filtration, sterilisation, and activation. Because you don't deserve anything less.
Click here to see more details of the BIO 1000 (Black)