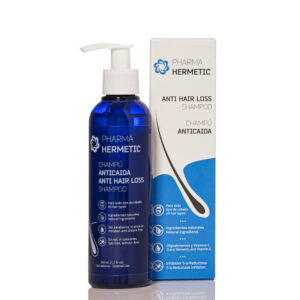 Pharma Hermetic Anti Hair Loss Shampoo is suitable for all hair types, is made with natural ingredients and is paraben and silicone free.
The Anti Hair Loss Shampoo has been created to work in conjunction with the Pharma Hermetic Hair Recovery Programme range of treatments and Hermetic Lotion.
The shampoo synergistically combines several multi-effect active ingredients that help by stimulating hair growth, enhance the regenerative capacity of the follicle, anchoring the hair bulbs by increasing hair density, strengthening the hair follicle to prevent hair breakage and inhibiting excess sebum that weakens the hair.
Formulated with menthol that provides freshness and extremely mild surfactants that clean in-depth, respecting the scalp and capillary structure, prolonging the life of the hair and strengthening it from the roots, achieving healthier and stronger hair.
The shampoo has been dermatologically tested and is suitable for daily use.
Key active ingredients:
Hydrolysed RNA & DNA
They intervene by enhancing the keratin synthesis metabolism, thus strengthening the hair structure. Once applied to the scalp, it will hydrolyse, breaking into small pieces including Deoxy-D-Ribose, amino acid nitrogenous bases and phosphoric acid.
All these nutrients are those that the cell will use to repair or reconstitute its own DNA and enhance the regeneration of the follicle, improving and strengthening the condition of the hair.
Trace Elements
The shampoo also contains a mixture of various elements such as Copper, Zinc, Iron, Silicon and Magnesium that positively affect the metabolic balance of the scalp.
This helps inhibit excess sebum that weakens the hair until it reaches baldness.
Hydrolysed Keratin
Keratin is the major protein in hair. The sulphur amino acids it contains favour the restoration of damaged hair fibres, restoring body, volume and vitality to the hair. Thanks to its conditioning power, it improves shine, helps eliminate frizz and prevents the formation of split ends.
Sodium Ascorbyl Phosphate
Stable vitamin C that stimulates collagen and elastin biosynthesis, improving skin elasticity and protecting skin and scalp from the oxidative process by neutralising free radicals.
This provides a luminosity and evens the skin tone, improving the appearance of the scalp.
How to apply:
Apply to wet hair. Gently massage into the scalp to promote microcirculation, leave for 5 minutes and then rinse with warm water.
If you would like to buy the Anti Hair Loss Shampoo please visit our shop here.
Pharma Hermetic
Pharma Hermetic are a European leader in cosmeceutical manufacture. Their philosophy is based on pharmaceutical concepts, which are applied to research and develop outstanding cosmetics products. Taking advantage of the group synergies, they also innovate and create new formulas for cosmetic and biotechnological products.
Pharma Hermetic manufacture abiding pharmaceutical standards using 100% sterile, organic farming. Others, like seawater ingredients or growth factors come from biotechnological procedures providing Pharma Hermetic the added valued, that differentiates them from other companies within the industry.