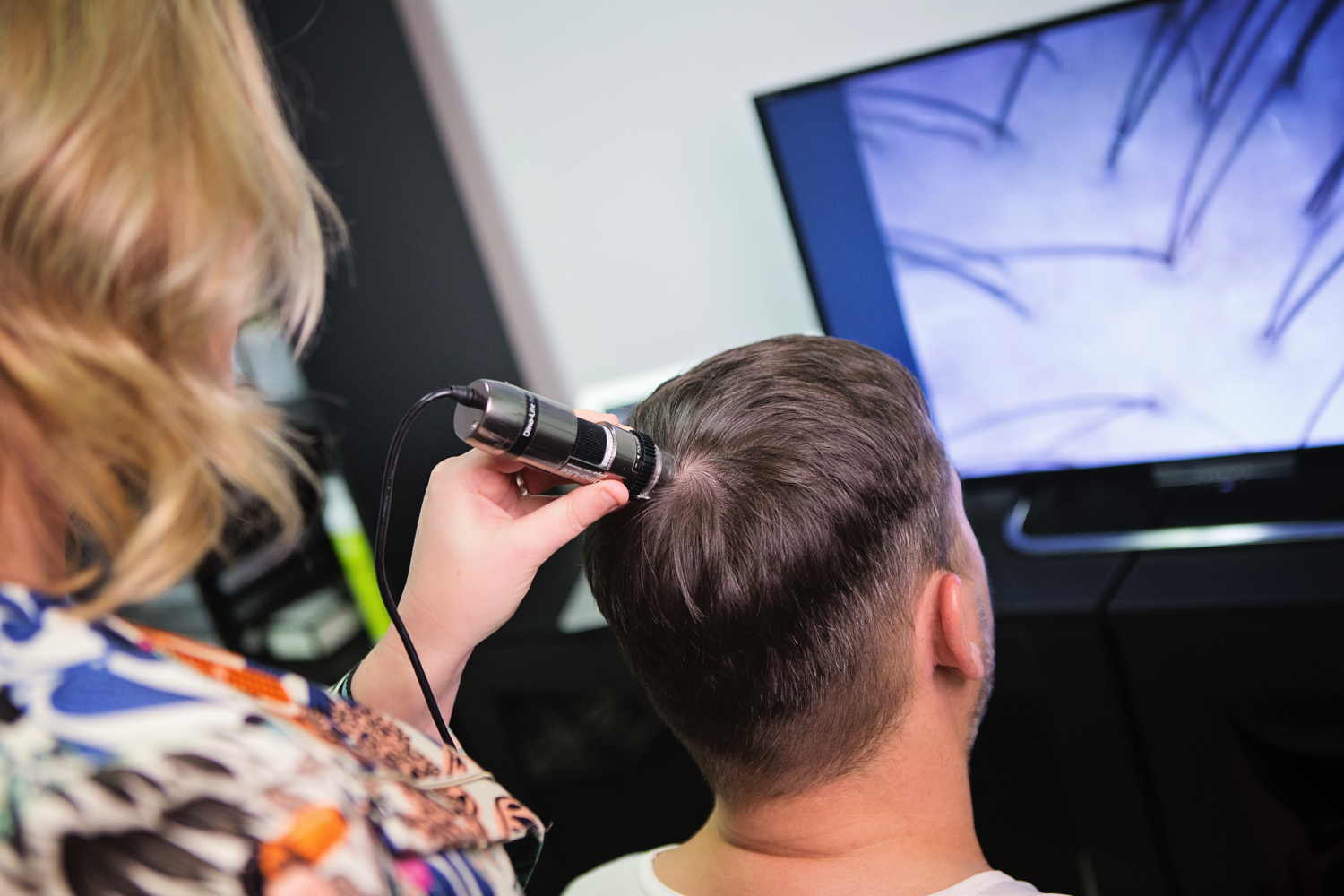 We understand the considerable anxiety that hair and scalp issues can cause. Hair loss, thinning hair, scalp conditions and even the general condition of your hair can make you feel upset, resulting in stress.
Feeling better about your hair, however, can boost your self image. The HairPhysio provide a highly professional and understanding approach at all times and maintain the highest standards in advice and treatment.
This begins with an in-clinic consultation.
WHAT TO EXPECT DURING AN INITIAL CONSULTATION
We adopt a complete approach to all hair and scalp problems. That means treating underlying causes if we can, as well as the immediate appearance and feel of your hair.
The process begins as soon as you complete our patient questionnaire.
This is our opportunity to review things like your general health, family history, nutrition, lifestyle, medications and other factors that can be relevant to hair and scalp issues.
At the consultation we will conduct a thorough examination of your scalp and hair, using a digital microscope and follow up on any areas of your questionnaire felt important.
Consultations last approximately one hour.
Unless we've had a chance to review recent blood tests we would then provide you with recommendations for a blood tests to complete the picture.
If blood tests are recommended we'll arrange a complementary appointment to review these prior to making an assessment and recommendations.
The fee for the consultation is $180 and will include reviewing the detailed questionnaire, a thorough hair and scalp assessment, including a microscopic analysis, (a follow up consultation if required to review any blood test results) and a full report on the next course of action and recommended treatments.
This may involve further tests, Hair Tissue Mineral Analysis, that we can organise, or referral to other medical specialists for other testing.
HOW TO BOOK A CONSULTATION
To book an in-clinic consultation, either use our online booking platform or email us at info@thehairphysio.com.au
Initial Consultations are $180 and include a follow-up consultation if needed to discuss test results.
Post-consultation reviews can also be booked for existing clients. This 30-minute review of your progress is $90.
Please note.
In-clinic consultations are by appointment only.
To make it easier and simpler for patients to choose a convenient appointment time you can use the online booking system.
If you make an appointment for a consultation, you will be asked to pay a 50% deposit. This deposit is refundable up to 48 hours before your appointment. Cancellation or rearranging a booking can be done by phone or email (info@thehairphysio.com.au).
Trichology services can not be claimed against health insurance or Medicare.