About Apteka
Used and recommended by many leading Trichologists, Apteka make one of Australia's most innovative, high quality and progressive hair and scalp ranges.
The range was developed by experienced haircare professionals in conjunction with a therapeutic and natural botanical manufacturer.
Entirely Australian made and owned, the products offer a true alternative to synthetic and mineral based ingredients. They use only the highest quality essential oils, vitamins, botanical extracts, and essential fatty acids. They combine active ingredients and peptide technology with maximum safety and effectiveness, so you get results you can see and feel.
All bottles and packaging are recyclable and ingredients are biodegradable. They do not test or support animal testing.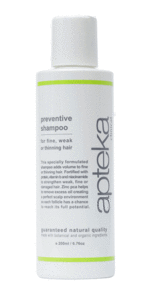 Apteka Preventative Clinical Range Shampoo
Gently cleanses while reducing oil build up on the scalp. Zinc PCA (Pyrrolidone carboxylic acid) nourishes the scalp and helps maintain scalp health. Fortified with wheat protein, vitamin B and Niacinamide to strengthen weak or damaged hair. Suited to hair requiring extra body or for fine thinning hair.
This natural shampoo with organic essential oils is totally free of any sulphates, Polyethylene glycol or Diethanolamine compounds, parabens and artificial fragrance.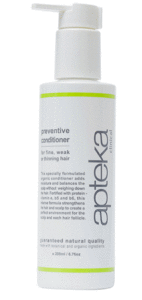 Apteka Preventative Clinical Range Conditioner
A light botanical conditioner packed with vitamins, protein and organic essential oils. Balances the scalp after shampooing and deposits nutrients to the hair and scalp. Zinc pca helps normalise an oily scalp. Free of mineral oils or harsh preservatives.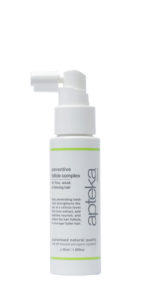 Apteka Preventative Clinical Range Follicle Complex
An intensive scalp treatment developed to nourish fine or thinning hair. New peptide technology improves extracellular matrix protein integrity in the dermal papilla for better hair quality and vitality. The synergistic action of red clover extract and acetyl tetrapeptide 3 has a positive effect on the hair, making the hair healthier and strengthening the hair at a cellular level. Contains 5% Capixyl. Does not contain nano particles.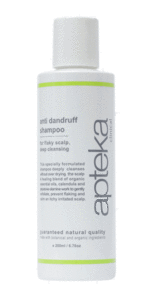 Apteka Clinical Range Anti Dandruff Shampoo
Anti dandruff organic shampoo cleanses without over dying the hair and scalp. A healing blend of organic chamomile, lavender and geranium, along with a concentrated calendula flower extract, soothe irritated or itchy scalps, while piroctone olamine gently exfoliates the scalp, removing build-up around the hair follicle.