About Apteka
Used and recommended by many leading Trichologists, Apteka make one of Australia's most innovative, high quality and progressive hair and scalp ranges.
The range was developed by experienced haircare professionals in conjunction with a therapeutic and natural botanical manufacturer.
Entirely Australian made and owned, the products offer a true alternative to synthetic and mineral based ingredients. They use only the highest quality essential oils, vitamins, botanical extracts, and essential fatty acids. They combine active ingredients and peptide technology with maximum safety and effectiveness, so you get results you can see and feel.
All bottles and packaging are recyclable and ingredients are biodegradable. They do not test or support animal testing.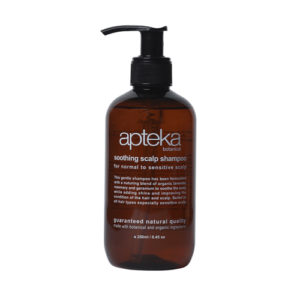 Apteka Soothing Scalp Shampoo
A mild shampoo based on new sugar and coconut derived cleansers, this beautifully fragrant shampoo is suited to all hair types and everyday use, especially sensitive or delicate scalp. Soothing scalp shampoo is very mild and suited to hair and scalp types requiring gentle cleansing without the use of harsh sulphates, Polyethylene glycol or Diethanolamine compounds.
Can be used all over the body on sensitive skin. Excellent for children.
Apteka Soothing Scalp Conditioner
This light botanical conditioner is based on natural coconut and vegetable oil. Moisturises and detangles without weighing down the hair. Vitamin e, vitamin b panthenol, jojoba oil and avocado oil nourish and repair, while organic essential oils of lavender, geranium and rosemary soothe and balance the scalp.
Free from parabens, propylene glycol and artificial fragrance.