Grace Tricho Hair Treatment Gel slows hair loss, stimulates growth, restores body and resistance to the hair fibre.
Grace Tricho Hair Treatment Gel works on multiple levels promoting better quality of hair and improved hair growth. It works through activating microcirculation, the inhibition of DHT production and matrix stimulation.
Slows hair loss
Less hair down the drain
Restores hair body
Nourishes hair
Makes hair more resistant
Makes hair less brittle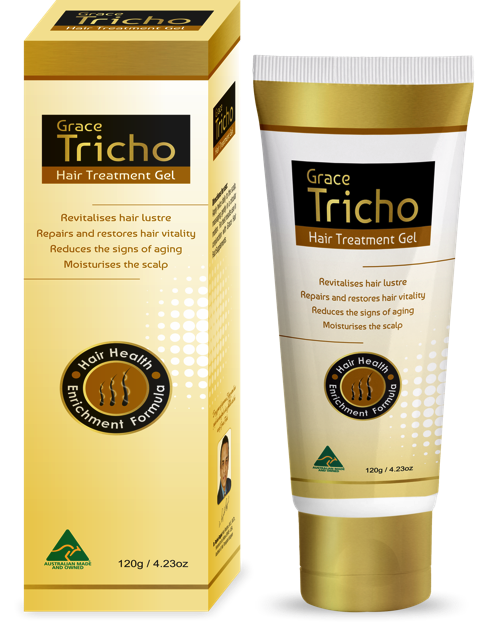 The product ingredients and benefits of Grace Tricho Hair Treatment Gel
Apigenin: Apigenin is found in many plants, is a natural product and promotes good blood flow.
Oleanolic acid: Oleanolic acid is naturally occurring and inhibits 5α-reductase (5α-Reductase is most known for converting testosterone, the male sex hormone, into the more potent DHT. DHT is a sex steroid and androgen hormone, which affects both men and women, and the human body produces it naturally. By middle age or because of hormonal dysfunctions, DHT increases around the hair follicles, blocking nutrients and leading to malnourished and diminished growth.
Biotinoyl tripeptide-1: It helps to slow aging effects by lessening the production of DHT to improve the irrigation of the hair follicle. Biotinoyl Tripeptide-1 can have positive effects on hair follicles by promoting scalp micro-circulation and reducing follicle atrophy and aging. Clinical tests have proven that Biotinyl Tripepdide-1 can boost new hair growth by up to 121% along with reducing hair loss by 58%. This effect is thanks to its DHT-blocking mechanism that treats alopecia, more commonly known as baldness, at the source – the hair follicle.
Hydrolyzed Vegetable Protein PG-propyl Silanetriol: The protein is a vegetable-derived protein and silicone blend that was designed specifically to strengthen, fortify, and revitalize dry and damaged hair. The protein is able to penetrate the cortex of the hair, helping to build strength from within while coating and conditioning the hair to protect the surface. The end result is hair with significantly improved tensile strength, which helps reduce the damage our hair sustains from colouring, environmental factors, and mechanical stress from styling.
Glycerine-Lactiol-Xylitol: Too often, the natural scalp balance is destroyed by water quality, hot showers, chlorine, over shampooing, drying, pollution, air conditioning, hair products, colouring, itching, irritation, redness, pain in the hair roots, sensitive scalp & dandruff'. Tricho Gel has the right mix of Glycerine-Lactiol-Xylitol (GLX), which acts as a moisturiser, maintains the scalp microflora, regulates the pH balance, promotes a healthy proteolipid layer and ensures a healthy scalp for promoting a good hair growth.
How To Use Grace Tricho Hair Treatment Gel
Apply twice daily to the scalp, massaging gently in a circular motion. You can do this after washing your hair either before or after drying. The 120g tube should last approx. 2 months.
For best results use in conjunction with Grace Hair Fact Advanced Cyclical Therapy Programme for Women or for Men.
A 120g tube of Grace Tricho Gel costs $80 including GST.
If you would like to order some Tricho Gel, please go to our shop here